Re-unification with my spouse: Easier than I thought
Hakeem Babalola
|
14. 6. 13
Source: migrationonline.cz
The joy of living with one's family cannot be described. Most especially for a couple who had committed to a relationship called long-distance. This relationship is not what many would like to engage in. For, this special relationship needs two compatible trusting hearts ready to be smoothly and rightly and well committed. I involved myself with the hope that Hungarian authority will not be a stumbling block.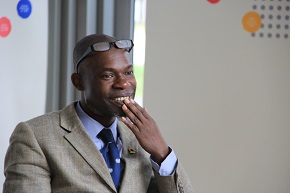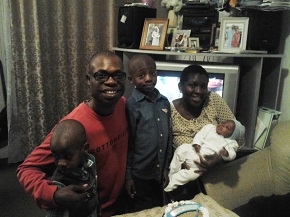 As a third country national (i.e. someone who is not European national), it is never easy to bring your family – to join you permanently in the country you reside. Because in part there are many factors attached to what is now popularly known as FAMILY REUNIFICATION. In one sentence, your destiny is in the hands of government officials.
Although the law does stipulate that as a permanent resident, your spouse can reunite with you; yet one needs to meet certain conditions. For example, no government would welcome a spouse whose spouse depends on the government – for any kind of support – financial support especially.
I know this, and when I decided to get married, I thought it carefully otherwise many people may be disappointed – including myself. At that time I was not ready to relocate to my country. So any woman of my heart must be ready to join me in this beautiful Danube country.
To start with, long distance relationship in itself needs patience and absolute trust. It requires heart of love: both romantic and genuine. Without which the two hearts may be troubled and, or even jilted and damaged. "God forbid," I would mutter each time the issue flashed into my mind.
Such random thought actually played an important role in my decision. It motivated me to work harder and harder, so in the end, the government would recognize that my would-be spouse and I are not going to be a parasite. We would work and contribute to the development of our immediate environment, community and the country at large.
Sometime I would swear to myself: "Bringing my would-be spouse to join me here in Budapest will not be a liability to me and to the government in general. May God help me."
At no time did I find cracking jokes with myself absurd. You have to be a little bit crazy to get it right. As a third country national, you must be ready to laugh at yourself when planning to bring your spouse to your country of residence.
Apart from the agony of imagination, many things as mentioned earlier could go wrong, most especially the issue of immigration. Inviting your spouse to live with you is regarded as herculean task among TCN (Third Country National)
In another perspective, some had married before relocating to Hungary leaving behind their family. In my case however; I did not leave my wife behind, for I met her during one of my visits to my country.

Though I wouldn't say it was love at first sight, we developed affection and trust for each other. We usually spent quality time together whenever I travelled home. As part of our courtship, we decided it would be a good idea for her to visit me in Hungary.
And so the process began.
And I remember telling myself that her getting a visitor's visa to come to Hungary will determine if I would continue residing here. I just couldn't bear it. I mean if my fiancée – due to bureaucracy – is not allowed to pay me a visit.
Hum, such fear or rather concern would soon be allayed. Till today I still believe I had the reason to be worried. Simply because the fear of immigration is the beginning of wisdom! I guess anyone who had gone through immigration process will agree with me – passionately perhaps.
See, I had heard different stories. Of how 'not-easy' it is for a permanent resident holder to re-unite with family. I had heard stories of outright rejection – of visa – which often break relationship: genuine or fake.
I remember that I was determined – no matter how stressful – to bring my sweetheart by the method acceptable to the authority. It paid off.
To be cork sure, I visited the Immigration Office at Budafoki út for information and requirements to invite my fiancée. Alas, the officers there were polite and helpful. However, I have to proof that I am not sleeping in the street; that I am a law abiding bevándorló (immigrant) who pays his tax dutifully; that I have a means of living with my gross and netto salary clearly stated.
As English teacher in a public school, I had no problem providing the requirements to apply for hivatalos meghívólevél (an official Invitation Letter) which looks like a diploma certificate.
Back in Nigeria, the Hungarian embassy also demanded for my bank account as part of the requirements for my fiancée to secure a visitor's visa. Though I frowned at this, I provided it anyway. I had thought presenting my bank account won't be necessary as a government worker. Thank God my wife was also working, for she too must provide her tax clearance in Nigeria. We both met the requirement. Hallelujah.
And off she went to Abuja – about 550 kilometers to Lagos where she lives – to apply for Hungarian visa. She had no problem getting the visa, because according to her the Consul even joked with her.
"Are you the English teacher's fiancée?" "Yes," she retorted, smiling.
The only problem was the fact that she had to travel 550 kilometers four times all in the process to meet her fiancé in far away Budapest.
She eventually spent two weeks with me after which she returned to Nigeria. A year later we were married – in Nigeria. To God be the glory.
Then we started another process: Coming to live with me – permanently – since I was still not ready to relocate to Nigeria. Luckily for me she likes the city of Budapest.
And so we applied for a visa called Családegyesítési vízum (Family reunification visa). It is a one year multiple visa which allows her to come in and out, or reside permanently. After which it was extended for two years. Then we applied for Nemzeti letelepedési engedély (National permanent residence), which she got after the officials were satisfied that our marriage is genuine and fruitful and healthy.
Ours is a success story – of family reunification. Praise the Lord, the author and finisher of our faith. Ours is a success story – of family reunification. Hurrah!
The article has been written with support of the Europe for Citizens Programme of the European Union and the International Visegrad Fund. The article reflects the views only of the author, and the European Commission cannot be held responsible for any use which may be made of the information contained therein.

Hakeem Babalola
Hakeem Babalola is a freelance writer/journalist whose works have appeared in local, national & international media. A Nigerian residing in Hungary, he is the managing editor African News Hungary and writes on general human interests, especially human rights and migrants' issues.